Retainable's Employee RetentionROI
What is your firm's most important asset? Your answer should be your employees. People who are content and motivated at work are prone to be more productive and loyal – driving your business forward every day. On the other hand, disengaged staff members can and do have a negative impact on your success, which includes lowering team morale and inspir- ing turnover. All too often though the specifics of what makes people happy and oriented to work go unrecognized, with personnel departures simply attributed as a turnover figure. But, what does the turnover number really mean for your team and your business?
The unparalleled growth of technology and the information age has made people – and the quality of their skills and talents – the primary competi- tive differentiator for businesses today. This fact isn't only true for technol- ogy companies like Google, Intel and Apple. SaaS and cloud services are now pacing business growth in every enterprise category and segment, proving daily that a company's future success is entirely based on its continual ability to innovate. However, while most firms realize that their long term competitive advantage is based on their people, most don't think strategically about how to identify turnover risk and increase employee retention.
What is the Real Cost of Employee Turnover?
Staff turnover – at all levels of your workforce – is an expected part of doing business. A Forbes article by Bernadette Kenny claimed that a company with an annual personnel turnover rate under 15% is considered normal and healthy – that's 1.5 people out of 10. Should your rate climb beyond this 15% marker look for the following real costs of staff turnover to impact your business:
• Down time while position is open
• Loss of customer service knowledge
• Cost of hiring – advertising and screening • Cost of onboarding and training
• Cost of learning and development
According to organizational psychologist Karlyn Borysenko of Zen Work- place, "When you consider all of the costs associated with employee turnover – including interviewing, hiring, training, reduced productivity, lost opportunity costs, etc. – here's what it really costs an organization:
• "For entry-level employees, it costs between 30%-50% of their annual salary to replace them.
• "For mid-level employees, it costs upwards of 150% of their annual salary to replace them.
• "For high-level or highly specialized employees, you're looking at 400% of their annual salary."
The Retainable Solution
The Retainable engineering team has created a new algorithm integrated with thousands of employee data points to calculate the flight risk of individual employees. The real-time Retainable Talent Monitoring System is a scalable and customizable service that enhances a company's sustain- able people management strategy by applying data science and machine learning to internal company data and external market data. In direct application, Retainable has been proven to be highly accurate in identifying and tracking individual employees to know which are at risk in advance.
Retainable features a clean, user friendly interface and smooth data integration, Retainable is a smart solution that better enables human resource management to retain anyone from their key talent to top performers and from administrators to customer contact staff and even contract personnel within a company, nonprofit or startup team organization.
Our Millennial Case Study
Millennials, both as consumers and as workers, are transforming America. Numbering in excess of 75 million, and all of working age between 22 and 38, Millennials are the largest generation in U.S. history. They are also the dominant employee segment, accounting for 50% of the U.S. workforce by 2020 and 75% by 2030. The growing challenge for employers, however, is that Millennials tend to resign frequently.
Retainable.ai's Millennials Retention Study shows that 62% of working Millennials are constantly open to new job opportunities. More importantly, the study also indicates that only 25% of Millennials are emotionally and behaviorally connected to their job and company. Further, 18% of Millennials are actively disengaged, meaning they are more or less out to do damage to their company. The study, analyzing 30 different data points, reveals that organizations must view Millennials as a high potential flight risk and take specific action to curb their exit. If left unchecked, the projected cost of Millennial turnover to the American economy could exceed billion annually.
The following chart illustrates the range of Millennial retention tenure achieved by some of America's leading businesses. Millennial retention success clearly varies with regard to corporate culture, industry segment and age of the organization.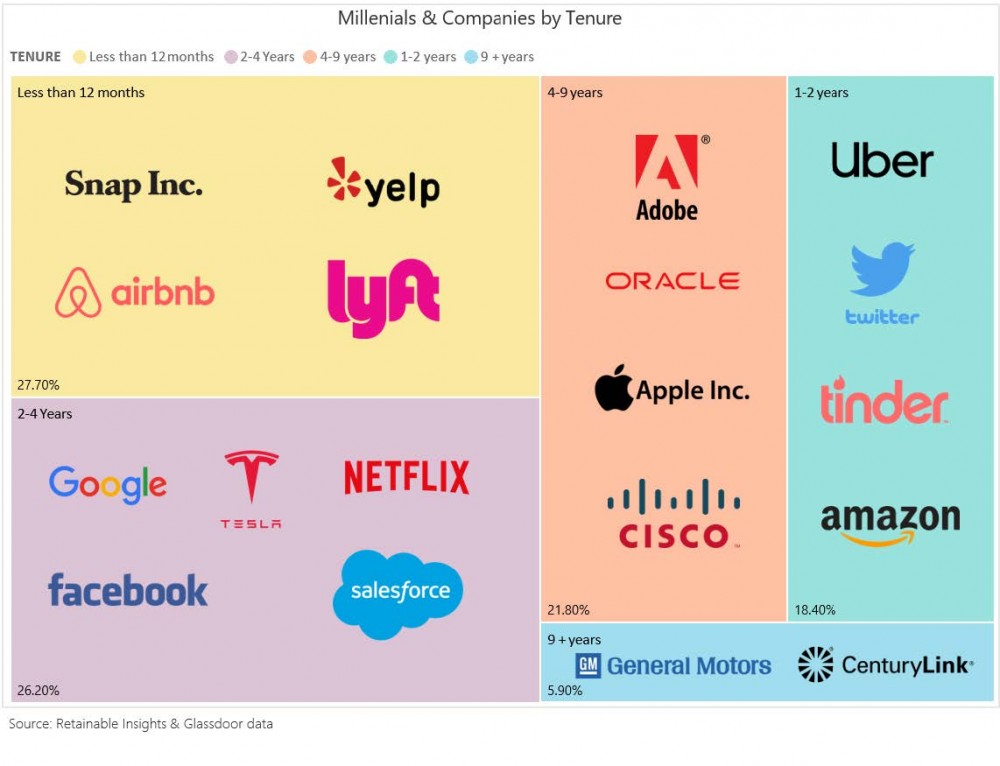 Millennials actually take a deep interest in their work, actively look and strive for opportunities to advance, welcome mentoring and respond well when a manager helps develop them. They are also extremely interconnected, immersed in an almost nonstop exchange of digital information as they explore all the operating facets of their current employer or hunt down a new entity that offers the workplace experience they're seeking. Yes, Millennials appreciate a light-hearted workplace and nice perks, but they value more the fact that their time and effort will have meaning, result in a real impact in the marketplace and end with an upward mobility and reward path for themselves.
Retainable's study also sums up the 5 most expected prediction reasons causing Millennials to leave their jobs in 2019:
· Lack of a clear advancement path
· Poor compensation for performance and/or contribution
· Negative work-life balance
· Absence of a teamwork environment
· Poor approach to working flexibility
"Millennials are more inclined to stay put when their employer builds a high-trust environment with clear career advancement paths, competitive fair pay, strong work-life balance, and a positive corporate ethics culture. In particular, our study of several years of employee retention data has led us to understand that Millennials want productive conversations and deeper connections with managers as it relates to their work and how it contributes to the ultimate goals and success of the organization. Having been raised in a face-paced, tech-driven world Millennials are quick learning masters oriented to push limits to achieve more. An employer with different career paths within the organization is an important expectation for Millennials.""
Muttalip Olgun, CEO, Retainable
Millennials want to be engaged and are passionate about their work – and they want these traits to be recognized and rewarded. Managers, therefore, have to set aside outdated concepts of seniority as an absolute and embrace a new definition of the good employee. Once that philosophy is in place then the Millennial perspective and approach to loyalty through development, recognition, and trust – which can add genuine shareholder value, profit, productivity, and welfare – be fully capitalized.